Search the shop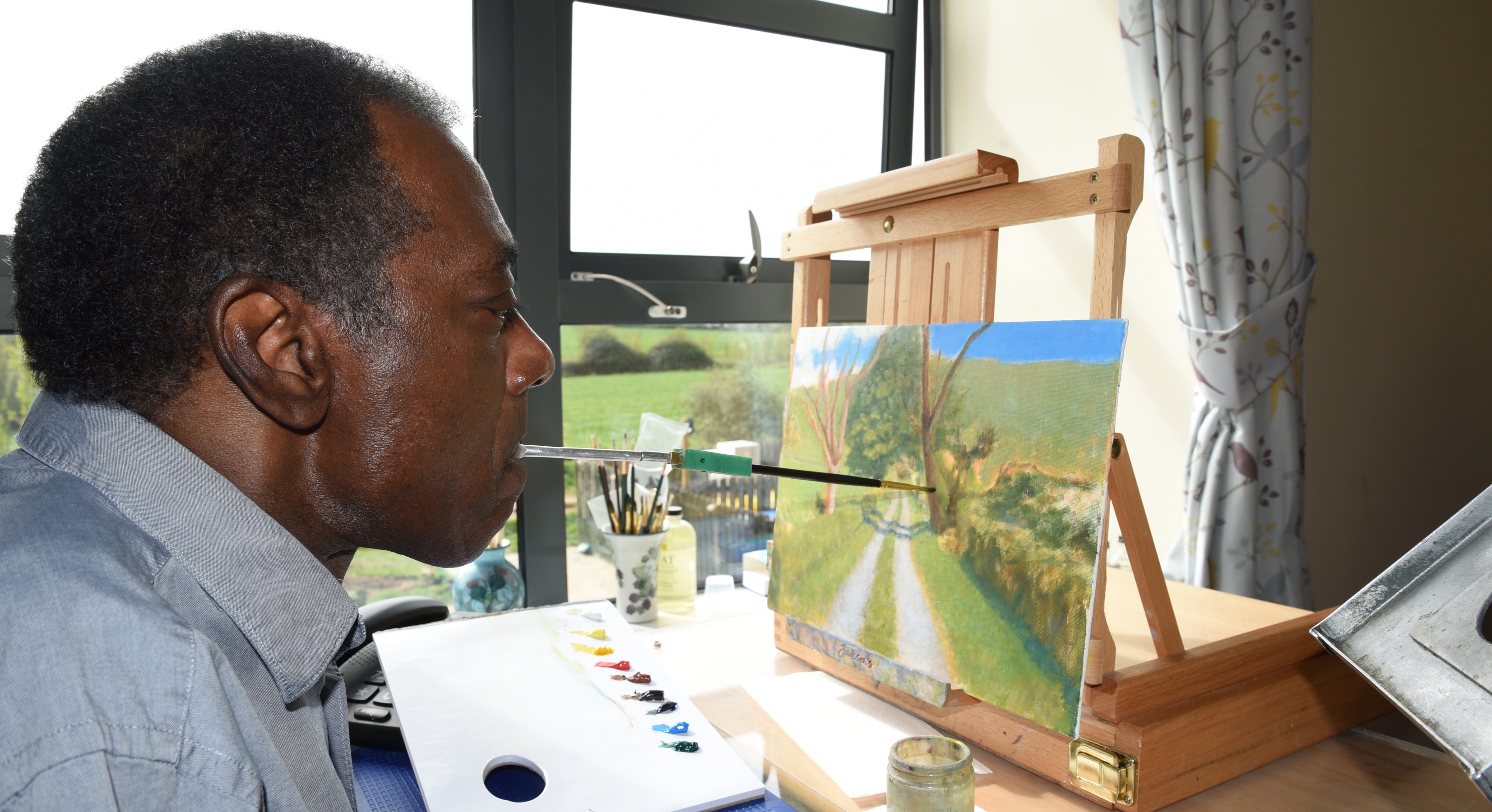 MFPA Student Artist
Born: 1961
Lives in: Worcester
Painting style: Mouth painter
Subjects: Landscape, Still life, Water, Flowers, Scenery
Alton Jackson was born in Jamaica but moved to the UK with his family as a young child. A motor bike accident in which he suffered a broken neck resulted in complete paralysis from his injury down. Alton spent long months rehabilitating in the spinal unit at Oswestry, and it was here that he first developed a technique for painting by mouth.
He says that his first attempts were terrible, 'fit for the bin' according to Alton, but he continued to amuse himself with water based colours on paper, not wanting to keep any of the finished works himself. After Alton married and moved out to the country, a visitor from his old Rehabilitation Unit told him that they had framed one of his paintings and titled it with a plaque in memory of the years Alton had spent with them.
She said it was beautiful but Alton was so surprised that he didn't know whether to laugh or cry. A month later the painting was stolen but his local vicar persuaded Alton to allow him to write to the Mouth & Foot Painting Artists on his behalf.
His marriage ended in divorce in 1997 and Alton now lives in a residential home in Worcestershire, surrounded by beautiful countryside. He has developed a distinctive painting style, often choosing serene landscapes as his subject. His paintings are very popular internationally and are frequently chosen by the Mouth & Foot Painting Artists publishers to reproduce as cards and calendar images.
'The MFPA has given me a lot of support and encouragement to do what I love which is painting'
---
---
Join our mailing lists
If you would like to be put on our mailing list to receive our greeting cards, calendars and other products then please fill in the form here.