Search the shop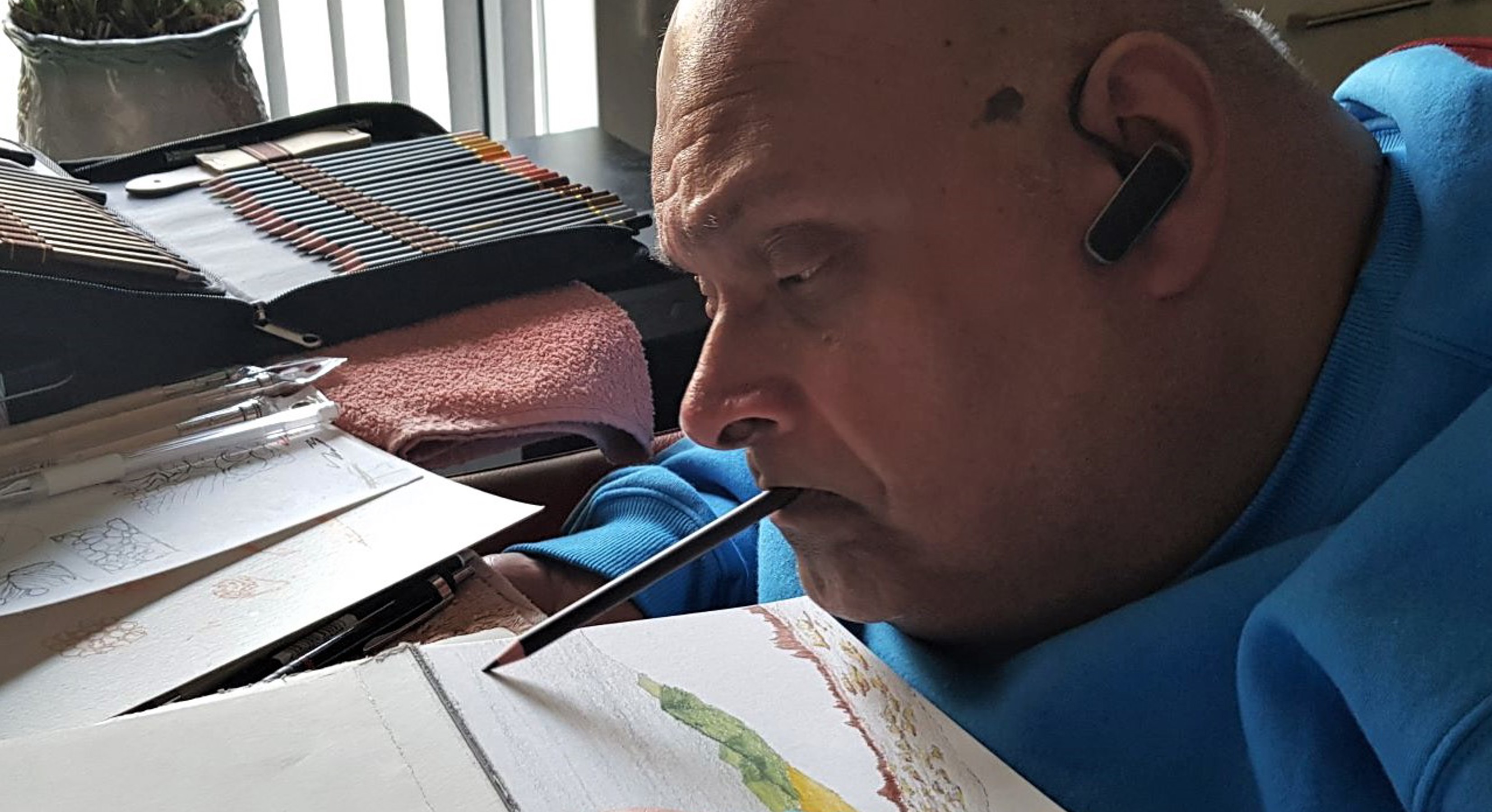 MFPA Student Artist
Born: 50's
Lives in: South-East London
Painting style: Mouth painter
Subjects: Landscapes, Seascapes, Still Life, Abstract, Surreal
Medium: Oils, Watercolour, Acrylic, Pen and Ink, Pencil, Scraperboard
Ranjit Bhamra was born in Uganda in 1957 and is one of five children. He contracted polio at the age of two. After exhausting all the medical facilities in Uganda and India his parents moved to England in 1965 so Ranjit could get the best medical attention. Soon after their arrival, he was admitted to Evelina Hospital. There he had several operations. It was during his stay at the hospital he developed his love and skill for painting with his mouth. At first, this was a means of communication, (as he could not speak any English) and later on it grew into a passion.
In September '67 he was enrolled into a boarding school for the disabled children in Essex. He continued his painting and studied hard while at school and won several regional art competitions and over the years had paintings and drawings exhibited at the ICA and Royal Academy Summer Exhibition. During his time at school, he passed his C.S.E in five subjects including Art. Ranjit continued his studies at college, obtaining passes in practical art, history of art, and various other subjects.
After leaving college in July '77, he spent 18 months at home and then moved to Ashley House (a home for disabled men). Here he developed a passion for abstract and surreal art alongside more traditional painting (landscapes, still life and seascapes). While at Ashley House Ranjit had two, one-man exhibitions and belonged to a local Art Group where he exhibited regularly.
'The MFPA put the art first and then the artist. Our art should stand on its own merits and not because it is painted with our mouth or feet and this what the MFPA promote, allowing our talents to shine and the disability is secondary. For many MFPA artists it is also their main source of income, providing financial independence. This world-wide organisation gives us artists a secure footing to enjoy our passion for painting'
In '88 Nick Clarke (one of the carers at the House) and Ranjit organised and completed a sponsored walk from John O'Groats to Lands' End which raised money for four charities. After leaving Ashley House in September '90 he moved into his own flat in Sidcup and became interested in the plight of the homeless in London. So, Ranjit and Nick Clarke (by now his full-time carer), decided to contact SHAC London Housing Aid Centre and proposed a sponsored walk through all the thirty-two London Boroughs and the City of London which they help to organise and completed in eight days, raising a substantial amount.
Ranjit is an active member in the community and is Chair of Inspire Community Trust, providing help and support for people with disabilities, and continues to paint.
---
A sample of Ranjit's work
---
Follow Ranjit on Social Media
MFPA accepts no responsibility for content of external websites
---
Join our mailing lists
If you would like to be put on our mailing list to receive our greeting cards, calendars and other products then please fill in the form here.