Search the shop
MFPA Member Artist
Lives in: Oxfordshire
Painting style: Mouth Painter
Subjects: Figures, cityscapes and water
Keith Jansz started painting for the first time since junior school after having run the London Marathon for Barnardo's in 1995.  Just two months later he suffered a broken neck in a tragic car accident, resulting in complete paralysis from the shoulders down.  After six months in the National Spinal Injuries Centre at Stoke Mandeville Hospital, Keith returned home to begin the painful process of adjusting to his new situation.  Unable to do anything for himself Keith naturally experienced the depths of despair.
In December 1996 Keith's mother-in-law gave him a book entitled 'Painters First', a collection of biographies of the Mouth & Foot Painting Artists.  Keith was able to empathise with the artists tragic stories and was inspired by reading of their triumphs and successes.  Eager to encourage this spark of interest Keith's wife, Cindy, arranged a meeting with the mouth artist Trevor Wells who persuaded Keith to try painting by holding a brush in his mouth.  Despite disastrous early efforts Keith persevered and in 1998 he was accepted as a Student Artist by the international self help organisation, the Mouth & Foot Painting Artists.  This achievement spurred Keith on to work with such determination that in 2000 he was promoted to a full Member Artist within the Association.  Since then Keith's paintings have been sold as reproductions worldwide.  He has held numerous solo exhibitions in the U.K., U.S. and Italy and his paintings have been exhibited in museums around the world including Lisbon, Madrid, Copenhagen, Shanghai and Atlanta.
Keith enjoys exploring the sensations of light in his paintings, from the sparkling reflective sunlight at the beach to the unique atmospheric light in Venice and the long shadows of winter light on snow.  He also enjoys the demanding discipline of painting the human figure, in pastel or oil.  Like his heroes the Impressionists, Keith revels in the challenge of painting 'en plein air' to capture the most authentic effect, completing his paintings in the studio.
'The Mouth & Foot Painting Artists has opened the door to an exciting new career, one that I could never have imagined in the dark days following my injury. My work has been published around the world, I have travelled extensively, met incredible people and, most importantly, I have regained my self-esteem. I owe a huge debt of gratitude to our founder, Erich Stegmann.'
Keith Jansz
See Keith paint on video
---
News Stories featuring Keith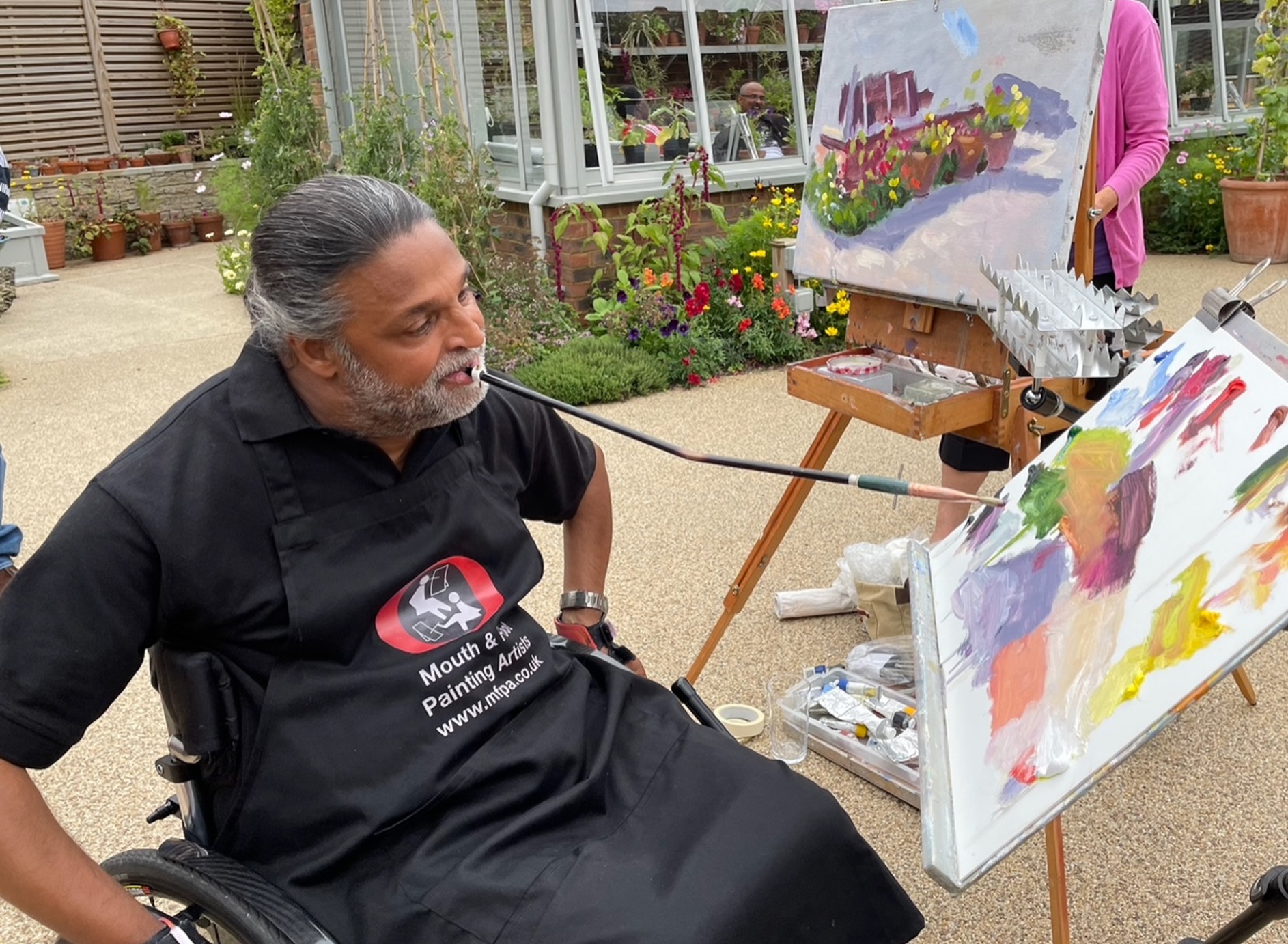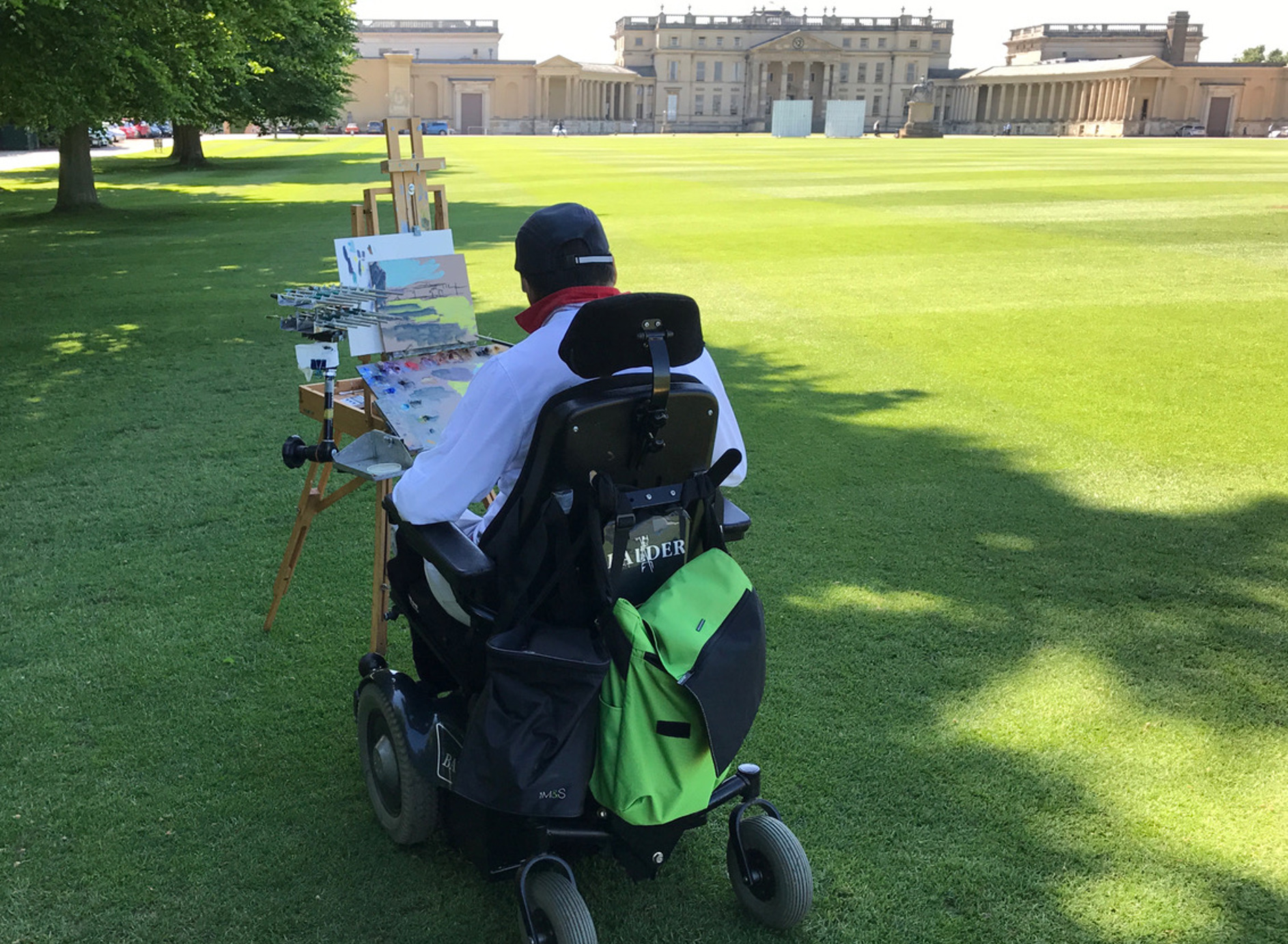 10 August 2021
When mouth painter Keith Jansz created his 'Sports Day at Stowe' painting, his plan was always to donate the work to the Stowe school to help them to raise funds for their chosen, charitable cause.
Read more
---
---
Join our mailing lists
If you would like to be put on our mailing list to receive our greeting cards, calendars and other products then please fill in the form here.