Search the shop
The People's Friend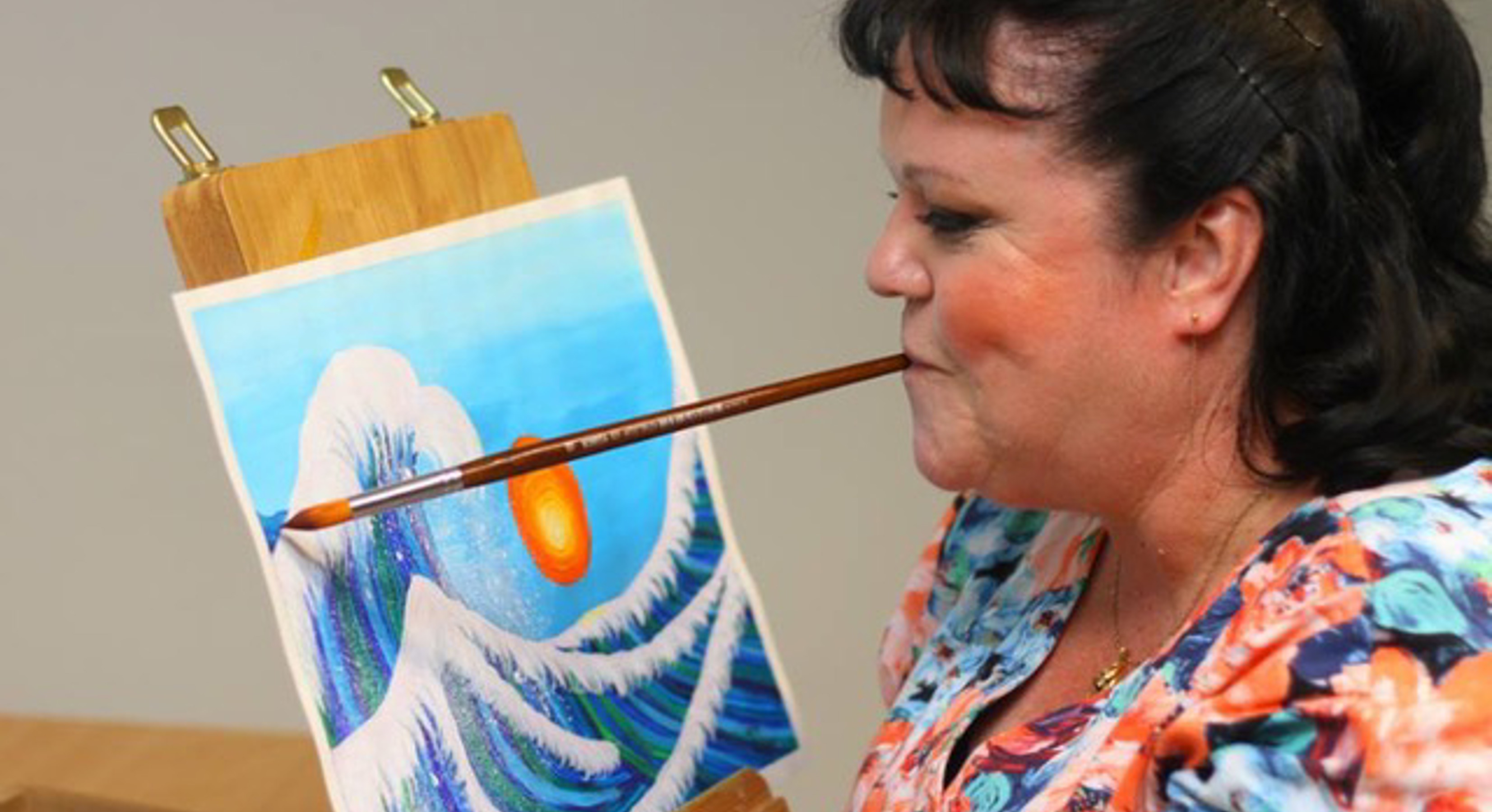 "I am so proud to be part of the Mouth and Foot Painting Artists." This was how a Rosie Moriarty-Simmonds OBE's double page spread interview was introduced to the readers of The People's Friend magazine, with a circulation of over 157,000 copies.
In the article Rosie described herself as a "happy wife, doting mother, inspirational speaker, successful businesswoman, volunteer, socialite and tireless charitable worker." And if that's not enough, she's an artist too!  
In 1985 Rosie gained an honours degree in psychology from Cardiff University, having been their first disabled student. A full-on life followed but at age 52, she decided she was ready for another challenge, when she was persuaded to put her creative work forward to become a student artist with the MFPA. "That enabled me to develop my painting skills and I am grateful for the support the organization has given me", said Rosie.
Now a talented artist, her work is noted for its boldness, with bright and cheery colours and she particularly enjoys portrait work. Currently, Rosie is embarked on a project to paint a collection of portraits of famous, iconic Welsh people, which once completed, she hopes to exhibit to raise money for various charities. The first of these was of Michael Ball, the famous singer, who was thrilled to see the finished result, writing on Twitter, "Dearest Rosie, just received my portrait print and it is AMAZING!! Such skill and artistry. Inspirational."
The People's Friend interviewer wrote, "Inspirational is certainly a fitting word to describe Rosie" and the full article appeared in the 8th March issue of the magazine.
New!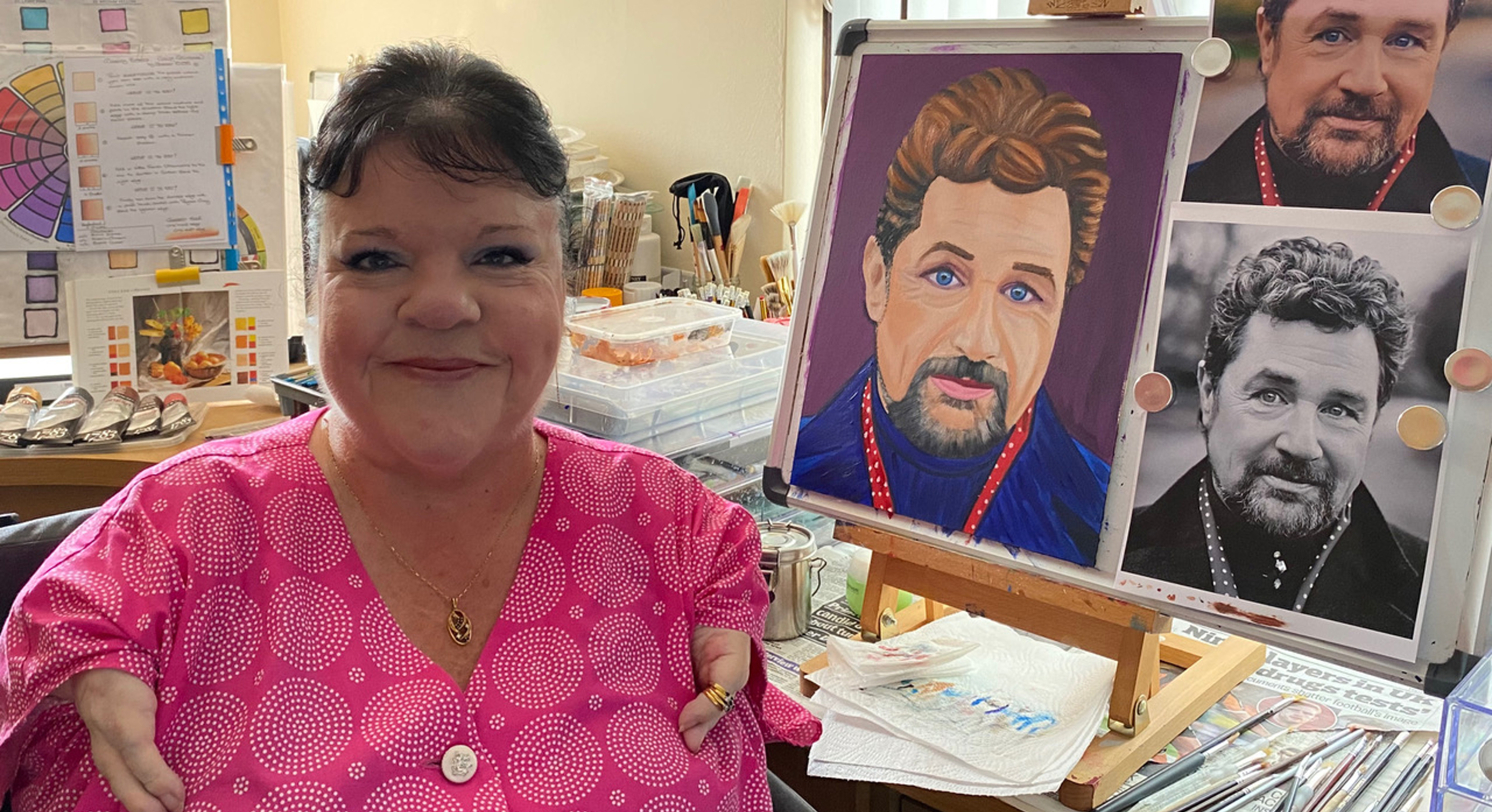 "We don't let anything stand in the way of our dreams" was the title of a special feature about three inspiring women that appeared in New! Magazine.
One of those women was MFPA mouth painter, Rosie Moriarty-Simmonds OBE aged 61, who talked about how difficult it was for disabled people like her when she was growing up. Born without limbs caused by her mother taking the thalidomide drug, some people reacted badly towards her physical appearance; sat in her wheelchair. The artist cited that schools in the 60's were not built for disabled people and the fact that it wasn't until the 70's that disabled children had a right to education.
Rosie reflected on her time as a teenager, when she felt left out of the dating scene, "Will I ever meet anyone, fall in love, and have children"? This coloured her early life and in time, led her to become a champion for the rights of disabled people. Thankfully, she also fulfilled her dreams in her personal life and is now married to her best friend Steve and has a 26 years old son, called James.
In 2015, Rosie received her OBE for services to equality and the rights of disabled people. She is also a member of the Mouth and Foot Painting Artists which provides her with a creative outlet for self-expression and enables her to earn income from her work.
The full feature article appeared in the 8th March issue of New! Magazine which has a circulation of 97,000.
---
---
Join our mailing lists
If you would like to be put on our mailing list to receive our greeting cards, calendars and other products then please fill in the form here.